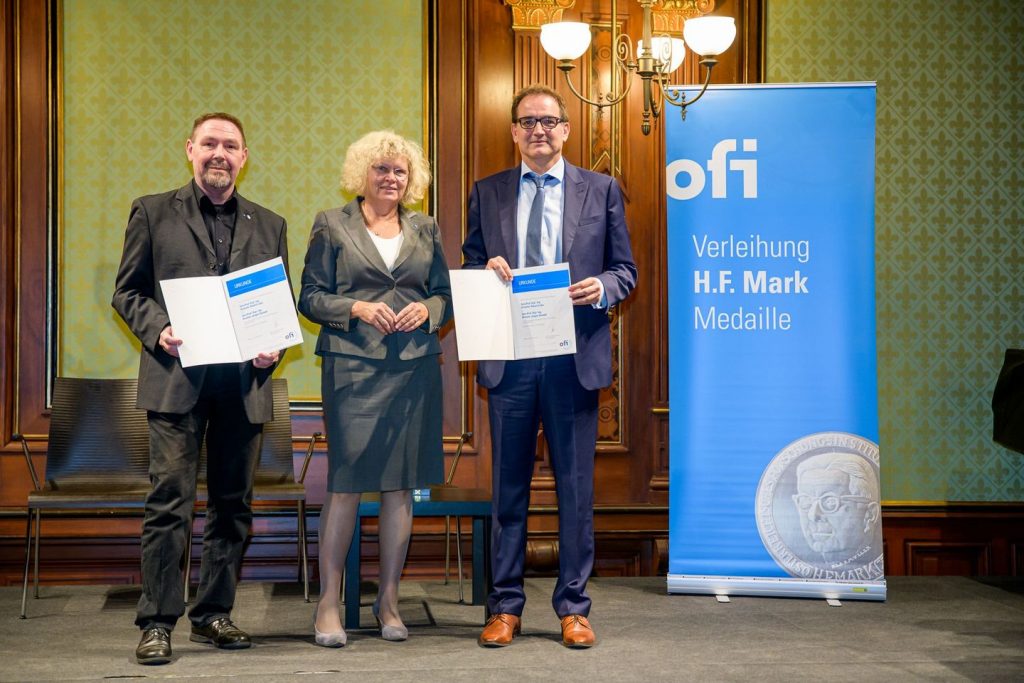 In memory of the world-famous chemist Hermann Franz Mark, the OFI presents the H.F. Mark medal to personalities who have made special achievements in the field of plastics and polymer technology. This year, the Cluster members Robert Liska (TU Vienna, Institute for Applied Synthetic Chemistry) and Jürgen Stampfl (TU Vienna, Institute for Materials Science and Technology) received the internationally renowned award.
It is the first time in the history of the H.F. Mark Medal that two winners are honored for their outstanding collaboration. Robert Liska and Jürgen Stampfl have been researching together for more than 20 years. Coming from different disciplines, they succeeded in combining their knowledge in such a way that something new could emerge from it. In their research, they deal with photopolymerization and 3D printing and the possibilities that this creates for additive manufacturing.
As part of a panel discussion, Liska and Stampfl not only gave an insight into their scientific career, but also showed the potential of interdisciplinary cooperation based on different areas of application of her research. Some of their findings are already being used in dentistry, microelectronics and biomedicine. The level of commitment with which this year's award winners conduct research became clear in a joint discussion. Their collaboration continues and they still have some research approaches that they will pursue together with their students.
(Image Copyright OFI/Michael Pyerin )